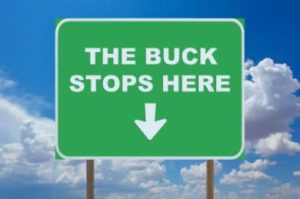 The buck stops with the board of directors.  When you strip out all of the politics and the neighbor issues and everything else, in your association you realize that ultimately the buck stops with the board.  The board is elected by the members to accomplish the tasks required of the corporation by the governing documents.  Volunteer board members are accountable to the corporation itself as well as the remaining owners within the community.  While the board can rely on opinions of experts and information presented by committees, decisions affecting the community are the ultimate responsibility of the board.  As a result, the board will be held accountable for these decisions.
While the position is voluntary, board members should take their fiduciary responsibility very seriously.  Board packets should be reviewed in depth before the meeting.  Directors should attend meetings prepared to conduct the business of the corporation.  At the same time, directors should remember to keep owners informed and to maintain an appropriate level of communication.
Boards serve a necessary function.  Despite the desire of some residents, it would be impossible for associations to function by ballot and owner vote for everything.  To avoid this type of delay and difficulty in getting things done, volunteer board members are elected by the members to conduct the business and affairs of the corporation.
While it seems obvious, board members should not become power hungry or otherwise harass owners.  At the same time, owners must respect the authority of the board to conduct the association's business and to enforce its documents.  Remember, while board members are responsible for certain association functions of the corporation, they are also owners and every decision they make affects the remaining owners within the community.
Boiled down this is pretty easy to carry out:  As you sit on your board of directors, think about what you would like to know and how you would like to be treated as a non-board member owner and strive to act in that manner as a board member.