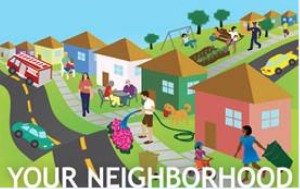 The first thing to remember when living in an association is that you are a neighbor to someone. If nothing else, your neighbors all likely share at least one common desire: to live in your community. Owners may have bought in the community for its location to certain schools, the layout of the homes, its architectural beauty, its location to workplace, or merely because it felt like home. Renters are brought to the community for similar reasons and often share these similar desires.
The word "neighborly" is defined generally as follows:
Characteristic of a good neighbor, especially helpful, friendly, or kind.
Unfortunately, today's neighbors have generally shifted away from being neighborly.
Think about it. How many of your neighbors do you know? How often do you speak to them? When was the last time you borrowed a cup of sugar from a neighbor?
Some of this lack of connection is caused by busy schedules and the shortened amount of time we actually spend in our homes. With a shortened amount of time at home, developing relationships with neighbors is difficult. After a long day of work, you may simply want to sit down with your spouse or spend some time playing with your kids.
When you finally have time to think about your neighbors, sometimes the only experiences you call to mind are negative —perhaps thinking about the things they do that upset or annoy you.
Do your neighbors leave their trash cans out all week? Do they park in front of your home on a daily basis? Do they have loud parties? Do they use the pool or community park more often than other residents? Do they let their grass grow to ridiculous heights? Do their animals use your lawn as a litter box? Does their home look like something out of Beverly Hillbillies? Do they store junk in their garage or yard? Think of all of your pet peeves and whether your neighbors engage in these activities.
Without knowing the reasons behind some of these actions, it's easy to become annoyed. For example, your neighbor might have left his trash can out because he was rushing to a parent-teacher conference, or maybe he hurt himself this past weekend. They might be parking in front of your home because their appliances are stored in their garage because they're remodeling their home. Sure your neighbor has many parties, but that's because they love to entertain! (Hint: You might be invited if you knew each other better and were more comfortable with each other!) Without being friendly with your neighbors, you may be missing out on some wonderful personal relationships with like-minded people.
"In the good old days," neighbors visited with each other (and not just on Facebook!). This should not change when living in an association. In fact, an association can serve a social purpose by adding additional opportunities for getting to know your neighbors, like annual or board meetings.
An association can also plan block parties or other social events. Once you meet your neighbors, of course, it will be up to you to get to know them better. Building personal relationships with your neighbors is the first step in building a community.  What has your community done to foster these types of neighborly relations?